News
Meeting Friends 2017 - SUMMER SALE
Swiss Alps Geocoin - Sale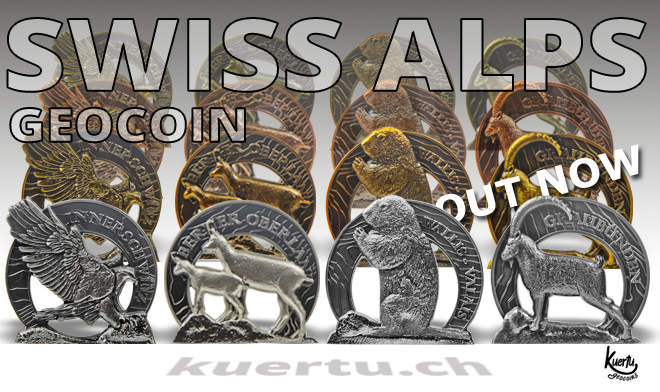 Now, the new limited Swiss Alps Geocoins are going to sale on 1st of Mai 2016 08:00pm CET.
Every of those coins will send in a velvet pocket. To save the postage you can pick up the
your order at the Mega Event Cacheland-Games in St.Gallen on the 28 of Mai at the stand of Kuertu. Please check the checkbox in this case during the order process. We are looking forward to seeing you at the stand of Kuertu at the Cacheland-Games.
to the shop
Swiss Alps Geocoin
The Swiss Alps Geocoin is the newest creation from the Kuertu Geocoin factory.
It doesn't consist just of one coin, no there are four. Each of the four attend to
an Alp area of Switzerland and illustrates a mountain animal, that you can see in this
area. The Areas are Wallis, Berneroberland, Innerschweiz, and Graubünden and following
animals are pictured: Marmot, chamois, eagle and capricorn. The backside shows the mountains
with the names and altitude. The special thing about the coin is, that it can stand.
The Geocoin will firstly sale at the Event of the
1. CICO-Event
from Riepichiep on the 2nd of April
and then from 27 to 29 Mai 2016 at the
Mega Event Cacheland-Games 2016
.
For the Mega Event in St. Gallen we will make a presale on the 1st of Mai.
We looking forward to seeing you at our stand.
1
2
3
4
5